Laila Petrone graduated from John Cabot University with a B.A. in International Affairs in 2001. She recently returned to campus to present and discuss a new film of hers, and afterwards, we caught up with Laila to ask her about some of her favorite memories from her days at JCU!
What brought you to John Cabot University?
I did part of my high school in the United States. I was looking to continue my education in an international environment. At the time, I lived in Rome and wanted to stay there, so John Cabot University seemed like an ideal option. I was also looking for a small environment where I would have the support system that a larger university could not provide. When I first visited JCU, I was taken aback. It was love at first sight!
What was JCU like back in the day?
I still refer to my four years at JCU as the best years of my life. You have to imagine that we were only some 150 full-time students when I started, from all over Europe, Latin America, and beyond, plus around 50 to 100 study abroad students from the United States. The international nature of JCU was amazing. We shared common ground as a large multicultural and multiethnic family. Classes had as few as 10 students. Our professors knew us by name. Many of these things are still about JCU to this day!
How has studying at JCU impacted you?
Studying at JCU impacted me personally and professionally. Everything I am today is in large part because of JCU. When I started, I realized I had spent my life searching for people like me, who had lived in different parts of the world, who had a diverse and multicultural background.
JCU gave me the confidence and the empowerment to know that my uniqueness had value. It certainly opened doors when I decided to move back to the US to start my career! It gave me the confidence that I could have big dreams and that, with hard work, those dreams could materialize. Most of all, the network that I built at JCU is still a big part of my life, and some of my best friends are JCU alumni.
Your first film was crowdfunded, and many of the donors were your JCU peers – tell us more!
It was really special. In 2014, I started a crowdfunding campaign on Kickstarter for my first short film, "YOUR LOVE".  I didn't email people to tell them about it, I just launched it and posted it on Facebook. I was very moved and humbled when so many donations started coming from my JCU peers–some of whom I hadn't seen since we graduated. But the bond we built went beyond that. It had to do with what we experienced together and how that will always stay with us. That was pretty amazing.
What's your favorite memory from your time as a JCU student?
There are too many to choose one! Let's say, the Aula Magna always brings back two memories that I cherish. The musical "HAIR" was our after class theater activity, and we had so much fun working on it. Another student, MariaSole, and I were chosen to sing the opening verse of the musical with the song "Aquarius."
I also gave one of my first presentations for my international affairs class with Professor Federigo Argentieri in the Aula Magna. It was one of my largest classes. I think we were around 30-40 students, and I stood up and gave a presentation that got me an A.
Also in the Aula Magna, my friend Alessandro Celli – who is now an Italian film director – started a regularly occuring Film Night. He was the first to really start talking to me about cinema. I remember we would go to his house and watch movies, and I would read his first scripts. Today, we are still dear friends, and when he comes to LA or I come to Rome, we never miss an opportunity to see each other.
What's something current and prospective students should know about JCU?
JCU isn't just a school, it's a family that will accompany you forever if you choose. The experience you can have of the city of Rome while studying in an international environment with the culture of family and community is, I think, pretty unique. The people you meet for a semester or graduate with will be your friends for life.
JCU also has the distinction of having a faculty that has been there for many generations of students. To them, JCU is not only a job; I believe they are passionate about it because it is home to them as well. When you have this combination of staff, faculty, and alumni who care and continue to build the school, there must be something very special about it.
You might get lost in the beauty of Rome, but you will never get lost or be invisible at JCU.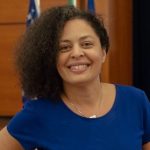 Laila Petrone
International Affairs Major
Class of 2001