Every city has its best season; the time of year when it really comes to life. Although Rome is beautiful any time of the year, I would say its best season is summer. During the hotter, slower, brighter months, the soul of the city truly comes out. There is so much to enjoy about life when you spend the summer in Rome!
Here are 4 reasons you'll love summer in Rome!
1. Vacation Mood
Studying abroad in Rome has so many benefits. One being the fact that your real, everyday life will kind of feel like a wonderful vacation. And when you spend your summer in Rome, this peaceful mood reaches another level. Even if you are enrolled in classes, the city's summer atmosphere will keep you relaxed while you get your work done! Walking to campus isn't so bad when you're enjoying the sunny cobblestone streets. Studying and working on homework isn't so tedious while you're sipping a delicious cold Italian coffee at an outdoor table at one of the many coffee bars in Trastevere. All in all, the slower pace of life and sunny weather will make you feel like you're on vacation all summer long.
2. Free Drinking Water Everywhere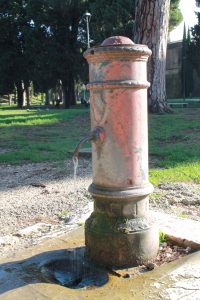 Another reason to love the summer months in Rome is that you will never go thirsty! Luckily for us, ancient Rome was highly innovative when it came to their water systems throughout the empire. Today, we still benefit from their aqueduct networks that transport water to all areas of the city. This means that when you're out and about, you are bound to run into one of Rome's 2,500 potable water fountains flowing with fresh, cold water! You will never have to worry about getting dehydrated in the hot sun, because you will always have free drinking water at your disposal around town. Instead of buying bottle after bottle of water, you can buy one reusable bottle and refill it whenever you pass a drinking fountain–thus saving money and staying green!
3. Nights Along the Tiber River
Your nights will also be fun if you stay in Rome this summer! Enjoy the annual Lungo il Tevere fair along the Tiber river every night until September! It is more than just a street fair: it is a summer-long event with lots of things to do, that Romans (and JCU students!) have come to know and love. Every evening you can head down to the river and walk along the endless stalls, temporary restaurants, food trucks, shops, bars, and even air hockey tables! Enjoy the music (there are often musicians playing live!), grab a refreshing drink, and just spend time with your friends. The nights spent along the Tiber river is what summer in Rome is all about.
4. Endless Gelato
It's not summer in Rome without gorging on gelato! Although you can enjoy this delicious frozen treat any time of the year, summer is the perfect time to go all out. Make it your goal to try every gelato shop in the city, start experimenting with new flavors, or decide to be totally irresponsible and substitute a gelato for your dinner on a particularly hot night! These warmer months were made for you to embrace the heat and cool off with Italy's best-known treat.