On March 20th, the Gladiators were away at Roma Tre for their final regular season game, which they faced undefeated since January. If the Gladiators came away with a win, they would end the regular season in second place, a hefty achievement and a long climb from 6th place, where they found themselves at the end of last semester.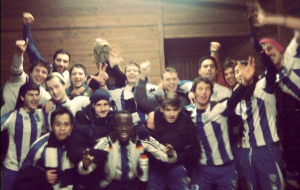 Under a steady rain and on a muddy, slippery field, the Gladiators played with true grit and determination. The field posed a large number of problems for both teams from the start, the ball often stopping in the mud and skidding along puddles, both teams losing the ball often in the middle of the pitch. The game was deadlocked at 0 with both teams having several opportunities but unable to capitalize. At the 20th minute of the first half, Roma Tre had a breakthrough on low, powerful shot which found itself past the defense and barely beat goalie Casey Marini. The Gladiators, not discouraged, rolled up their sleeves and fought for every ball up and down the field and equalized a few minutes later with a rifle volley by Cesare Cacciapuoti just under the crossbar easily beating Roma Tre's goalkeeper. The first half ended 1-1, and yet again coach Riccardo Concari had inspiring words to say to his tired and muddy players.
The second half was once again messy and slippery, many balls being lost of both sides. Keeper Casey Marini had several breathtaking saves to keep the game level, including a seemingly impossible goal-line flying save. With 15 minutes left to play, a Roma Tre defender fouled striker Patrizio Mocci and the Gladiators were awarded a penalty kick, which was beautifully converted by defender Othmane Slimani, who easily beat the keeper with a well placed shot to the lower left hand corner, giving the Gladiators a 2-1 lead. They defended their lead with tenacity, playing the last ten minutes as if they were the first ten of the game.
Finally, the whistle to mark the end of the game sounded. Despite missing several starters and many injured players, the Gladiators came away from the game with a deserved win. The Gladiators finished their spring semester regular season undefeated, with only 1 tie! They are the second seed in the Roman University's Champions league playoffs which start after spring break.
The Gladiators will face bitter rivals AUR, which they have beaten twice this season, to continue to the semi-finals. Come out and cheer for our Gladiators for a rare 3rd derby of the year!!
Victoria Horn
Assistant Soccer Coach
Business Administration Major
JCU Class of 2014