STAND (which stands for Students Taking Action Now – Darfur) has been a student-run club at John Cabot University for the past ten years. Its initial objective was to create an anti-genocide coalition, with its main focus on Darfur. But then they chose to move the focus closer to home; they felt it was important to do what they can to help people here, too. "The refugees are the main aim at this point," says Omar Abdel Latif, STAND's President, "at the center we provide services like English and Italian classes, and a shop for clothing and supplies once a month."
The Joel Nafuma Refugee Center in Rome receives help from STAND and its volunteers every Friday. With six board members and several regular volunteers, a team of around ten people go together each Friday morning from John Cabot's Tiber Campus. "These people go every time, and I think that's really nice," Omar notes. "Together we cover the English and Italian classes and the supply room. These are our main duties at the centre. By having enough people to cover the things we promise, it gives the rest of us a chance to talk to the refugees. It's good for the students, too; it gives them a chance to learn stories they don't know, and learn the situation of the refugees better."
STAND'S participation at the Refugee Center helps in many ways. "They rely on us," Omar says. "The support of the JCU community is needed. The center has more than 100 people and every Friday they look for us. And STAND definitely makes a difference in the center; there is an impact."
Fondly, Omar explains how he arrives there an hour earlier than most of the volunteers to help set up. He knows many of the refugees by name, and it makes him feel good to be helping his friends in the center. Each Friday morning he arrives early to the center, it's again made clear how much he and the rest of STAND are contributing. "The expressions on the refugees' faces change instantly. They stand up and get excited, rush to the ping pong table and foosball table waiting to play and talk. It's the small things, but I love seeing the 'before' and 'after' by being there earlier."
"It's important to have people be there and be present; to talk to people. There are many refugees that spend the whole day not talking to anyone, as they live by themselves and in the streets, and that Friday if someone talks to them, it's very important to them. You are making genuine connections with people.
"Some have very tragic stories; there are people who lost their families, people who fled from bad conditions, or people who were treated badly and lived in inhumane conditions too. I think that when they get here, and they have survived such a tragic time in their lives, being forced from their own country, they are in a very fragile state. It's really very important for them to have people to help them integrate and give them the strength to enter society again. Many people are looking for this at the center.
"By talking to them, it changes your perspective. You no longer consider the refugee crisis as a 'statistic' or 'number', but as individual cases and experiences. This is a person, as much as I am. They have struggles, as we all do. They just happened to be born into a different environment.
"Some people are forced to sleep on the street. The centre is only open from 8:30am to 2pm, and people come for access to hygienic services and legal services. But there is a movie room, classrooms, and food for breakfast. But once the center closes, they are again on their own," Omar explains.
Omar is really excited for STAND's growing involvement with the center. It is his first semester as the president of STAND, and he had a great mentor in the previous board members who he commends for preparing him for this semester. He finds himself surrounded by people who are very supportive of ideas, and help provide concrete support so these ideas can be carried out. "The board members have made substantial contributions this semester; we are growing and growing. We want to do partnerships with other refugee centers so we can do more and more. STAND is becoming a really nice reality right now, and it has great potential as a club."
John Cabot University regularly has events and sales whose proceeds go to helping the Joel Nafuma Refugee Center: the bake sales, the book sales at the beginning of every semester, and the upcoming Halloween Extravaganza run by the Theatre Society in collaboration with many other clubs. "At the beginning of this semester we helped with a renovation of the reading area, thanks to our semester book sales. This is where the money goes. Clothing, supplies, renovation, and doing other things in the centre itself," Omar explains. "I am grateful for the JCU community; we achieve a lot through these sales and events."
"I have to give a shout-out to Professor Lanzone. He is a wonderful advisor. Because of him, we were able to accomplish a lot. Thank you to Julia del Papa, JCU's Community Service Coordinator, too. Whenever we need to do different activities or provide certain services, she has always been a helpful and active supporter of STAND. This semester especially, it's been great to work with these people. Thanks to them all, we made things possible."
Find out more about STAND on their Facebook page or email them at [email protected] for more information.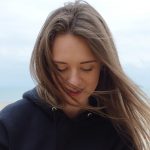 Bethany Anne Miller
Class of 2019
Hometown: Shrewsbury, England