There are four phases of the college student: beginner, intermediate, advanced, and expert. The beginner phase, or the freshman, is normally a student who spends the majority of his or her time adjusting. The student is learning how to cope with newfound independence and responsibility. The intermediate phase, or the sophomore, is when the student has started to settle (hopefully). He or she has maybe even developed time management skills, and understands that midterms and finals will make an appearance, no matter how hard one tries to ignore them.
The advanced student, or the junior, is a crucial phase. This is the year that the student will be bombarded with questions from family members and recent graduates who act like a guidebook to the real world. The question "Are you going to get an internship?" or more likely said as, "You haven't had an internship yet!?" will be frequent and overwhelming.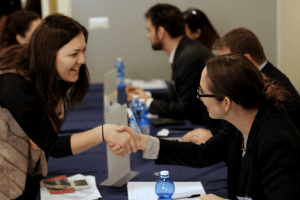 Students in their junior year, if they haven't already had an internship, begin to feel pressured. They are no longer inching toward graduation day, but it is now at their fingertips. The final phase, the expert, the college senior, will hit hard and fast, and students want to be prepared with a resume that lists more than just hobbies.
It is true; internships are increasingly popular, and expected from future employers. Internships help build resumes and CVs, give a glimpse into life of a full-time job, build networks and references, and can lead to being hired straight out of college. The hype of having an internship is well-founded, but it is not always easy to obtain. John Cabot University's Center for Career Services understands the difficulty in finding an internship, so they provide students with connections to employers and opportunities.
Career Services has connections – and continually establishes new ones – with local businesses of all types. The businesses range from positions in teaching, finance, communications, art history, and anything that would be potentially appealing to the JCU liberal arts community and international student body.
Career Services does their best to ensure that the internship programs they connect students with will provide valuable work experience and guidance, so no fetching coffees and running personal errands.
Career Services prepares online guides for JCU students to help them write and format resumes, CVs, and cover letters. They will also critique and make suggestions on how to better these documents before sending them out to employers. They have their own Facebook page, Twitter, and LinkedIn. The office constantly posts updates on events, workshops, and new internship opportunities. They help students by preparing them to enter the workforce, and alumni by helping them network and informing them of current job opportunities. Career Services is an office worth visiting for students in any phase of college.

Carly Newgard
Communications major, Humanistic Studies Minor
Class of 2017
Hometown: San Diego, California