Ciao again! In my last blog post I talked about my orientation experience at John Cabot University and now I'm here to write about my first week as a JCU student and temporary resident of Rome. It has been so strange to experience, during my first week here, some of the same feelings that I experienced as a freshman at San Jose State University in California. You know that feeling of anxiety about how classes will be? Worrying if you'll find friends right away. And just not knowing what to expect but at the same time being ready to go through it! It is such an odd bundle of emotions…
Learning to Get Around Campus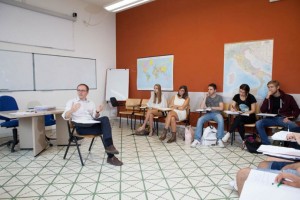 My first two days were definitely the toughest for practical reasons: finding where all my classrooms were located was stressful because the university's buildings are spread out over much of the beautiful Trastevere neighborhood. I was not even sure that I was going to remember the path from Tiber Campus to Guarini Campus (the two main buildings)! When you do find the right building the room numbers can seem confusing at first. I discovered that the numbering of classrooms is different from the United States: here, they don't call the first floor "floor 1," but "ground floor" (or "0" in the elevator). Instead of seeing the number "1," you'll see "G" on the room number plaques. That was a bit confusing at first but after the first couple of days I got used to it.
Classes
Thankfully, what really helped me through my first week at JCU was the openness and kindness of JCU faculty and staff. All of my professors are amazing people! Half of them are American, which makes me feel at home. I was worried about having a language barrier between my Italian professors and I, but they are so patient, and obviously fluent in English, that there was never an issue with communication.
By the way, the courses I'm taking this semester are: History of Ancient Rome, Intercultural Communications, Race and Gender in Cinema, and American Government… all of which I recommend!
My university back home is very large compared to this campus, so I think the feel of a small and more intimate university, (smaller classroom sizes, etc.) made my first week that much easier. The campus also has a lot of areas to hang out or relax (Tiber Café, student lounge, the lemon tree courtyard and three different terraces), which is so great when I have a big gap between classes or when I just don't have the energy to walk home right away.
International Environment
In the first week, I was lucky enough to become really close to all of my roommates. We are from all different parts of the world (North America, Indonesia, Russia and England), which is what's so great about JCU: it is a very international environment. My roommates and I get along very well because we all respect each others' background and we accept and cherish our differences. The first week we had to establish roommate guidelines (just like with any roommates) but now it's like I'm just living with good friends.
Overall, my first week here was intimidating at first but then it was a breeze. It's important to keep an open mind and just take it day by day. It is going to be different and scary at first but after the first week it will finally hit you that this is a once in a lifetime experience so just relax and enjoy the ride!

Raven Swayne
San Jose State University
Journalism Major
Study Abroad Fall 2014