Four years at John Cabot University can make us complacent. Time is a luxury we can afford. We can take Rome in slow strides and not rush to get it all done in one go. We, as degree-seeking students, have time to 'do' Rome, but study abroad students have only four months. Four months is nothing compared to the four years we have. While we prepare to choose the most convenient class schedule possible during a semester, they want to cram in all that they can to make the most of it. They choose to do all they can to make it special, no matter how hectic.
The most common classes visiting students seem to take are the on-site classes. John Cabot offers so many on-site classes in different departments that there really is something for everyone. If you haven't taken an on-site class yet at JCU, I can safely tell you that you are missing out.
Not only do they allow you to break out of the classroom, but as Lana Rae West, a former study abroad student in Spring 2016 from Rutgers University, notes, "I learn better outside of a classroom too." On-site classes can even be a good option for degree-seeking students; yes, you will have to travel to different sites for your class instead of just going to the same classroom every time – but it allows for a very active and interactive way of learning instead. Lana also made a point that a degree-seeking student may not immediately think of: "I saw parts of Rome I know I wouldn't have if I hadn't taken an on-site class."
With all the time we have here, I think we become complacent with the idyllic neighbourhood of Trastevere and the glorious city center, without thinking to branch out and explore the city beyond that. "Truthfully," Lana remarks, "it changed my perspective of Rome."
The assignments for her Photojournalism class also made for interesting discoveries for Lana: "Our first assignment was to take pictures of a shape. As I was looking for circles, I found this little action figure placed on top of a trashcan lid. I would never have seen it if I was not looking for it. . . after that, I couldn't un-see it. My friends walked past it every day but for me it stood out for four months." In this way, Lana found something a little special in her experience here.
For the time that we are given here, I believe its important to see R(h)ome in as many forms as we can. Through a camera lens, a classical eye, or even by sketching or writing about it. Photojournalism is just one of many examples of a class John Cabot offers which demands your best pair of walking shoes, and can give you back a new appreciation for your adopted city.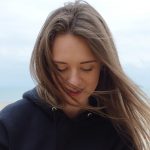 Bethany Anne Miller
Classical Studies Major
Class of 2019
Shrewsbury, England