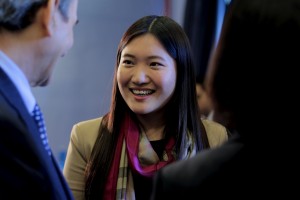 In today's rapidly internationalizing business world, employers prioritize adaptable candidates who can fulfill multiple roles within their organization. Complementing your Business Administration or International Business degree with a strategically selected minor can help equip you with valuable expertise and breadth of knowledge – qualities that will take you far in the private, public, or non-profit sectors.
Read on to discover how pursuing a minor can enhance your business degree, help you get the most out of your internships, and better prepare you for today's evolving business landscape.
Minor in Psychology to Gain Conflict Resolution and Mediation Skills
Business is largely about communication and understanding human behavior. Professionals who know how to mediate disagreements and resolve personal differences can help a business lock down profitable deals and make agreements with other companies.
Students who study abroad in Rome have the opportunity to choose from dozens of psychology courses to complement their business degree. You might take Cognitive Psychology and learn about human behavior and cultural differences – perfect for mastering future cross-border negotiations, or diffusing internal office tensions. Or, you may select Theories of Personality for insight into diverse temperaments, and how to more effectively collaborate with classmates (and future colleagues).
Minor in Entrepreneurship to Launch your Own Business
While some business graduates will go on to work for global or national companies, others may choose to steer their own ship and become entrepreneurs.
If your dream is to start your own business, then it makes good sense to take courses like Introduction to Entrepreneurship, which helps students understand the fundamentals of organizing and launching their own business venture. Other courses offered at John Cabot University, such as International Entrepreneurship, can help students develop a global perspective plus practical insights into how to develop and manage an international team of employees.
Minor in Creative Writing to Master the Art of Persuasion
Many start-ups and non-profits submit grant proposals to the government or private investors, bidding for funds to support their enterprise. Non-profit organizations in particular need grants to stay afloat, and require skilled business writers on staff with persuasive proposal writing skills. Minoring in creative writing rounds out your business degree by honing your ability to communicate – a must-have for successful networking, deal-making, and fundraising.
Business students who attend university in Italy and want to explore the non-profit sector may pursue internships at one of Rome's many non-profit organizations, such as Greenpeace Italia. This is a great way to get an inside look at how these initiatives operate, and perhaps even get the chance to help craft a winning grant or project proposal.
Which minor would you choose to complement your Business degree when you study abroad in Italy?