I am a Business Administration major at John Cabot University. In order to graduate, the university requires students to take general courses as well as core courses related to their majors. In the past years, I often chose business courses to have a better idea about the business field. This semester, besides the business classes, I also took a Fine Arts class with Professor Peter Flaccus: Drawing-Rome Sketchbook – I am in love with this class!
Professor Peter Flaccus was born in Montana and earned his B.A. at Amherst College in 1969 and his M.F.A. at Indiana University in 1971. He moved to Rome and started to teach painting, sketching, and figure drawing at JCU in 1994. He is currently the Chair of the Department of Art History and Studio Art.
I am not a super-extroverted person and I usually prefer to stay at home and do my own stuff. This means that my point of view and the way I see things can be limited. However, the Rome Sketchbook class, which is on-site, forced me to really experience the art of Rome. During the drawing lessons, I was able to observe different art styles and connect with the images I saw. It really broadened my horizons. Professor Flaccus usually starts the class with a short lecture about the location and some guidelines about drawing. The concepts he touches on in his lectures allow me to not only improve my drawing skills, but also to learn to communicate with others about what I am trying to show them.
Depicting a outdoor urban space (S. Peter's Square)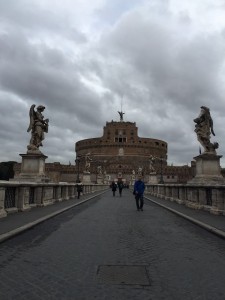 Baroque Figures at Ponte Sant' Angelo(12minutes drawing each)
Art class offers a totally different take on the world we live in. It is not all about the images we see, but the way we observe and relate. There is always more than one way to get to Rome, and the world is not black and white. We just need to have the courage to take the step and move forward.