My name is George Osypa and I studied Economics and Finance at John Cabot University in 2013. In addition to the social and learning aspects of my experience, I decided to apply to be a student assistan
t in the Admissions Office. Before I jump into my story, I encourage you to participate in the JCU Student Employment Program, which I and many other students have found beneficial not only while studying at John Cabot, but for the future as well.
I worked in the Admissions Office for only half a year, yet the experience I gained is very valuable to me. Looking back, I realize that I do not have much to complain about, I only wish the Tiber Café was a little closer to the office (even though it is just 5 minutes away). I worked for the Russian-speaking part of the Admissions Office together with two beautiful ladies Olga and Margo. My three main responsibilities included managing cooperation with JCU international agents, handling email and phone inquiries concerning admission to the university, and developing and publishing with social media tools. Working in a closely-knit team in the Admissions Office made my overall experience only better. The Admissions Office is one busy place in John Cabot University, but every member of our team was responsible and determined so we never ran into any organizational issues. Being student workers, we had supervisors that treated us warmly and it felt like we were all equal. If you ask me whether I would like to work there again, I would definitely say yes! Besides the knowledge, experience and the notions of team work that one acquires, you get paid for your job which is a plus. Moreover, the job experience will certainly look good on your resume!
As I mentioned before, my job was to promote John Cabot on social media, consult prospective students through email or phone and take care of how representatives deliver information about the university. At some point, I started thinking that it would be nice to have just one tool that would unify these various directions and limit the mediator's influence on the recruitment process. After sharing this idea with my father who happened to be a representative of various international universities in Ukraine at that time, we unified our experiences and created Abitoria – a social network for universities and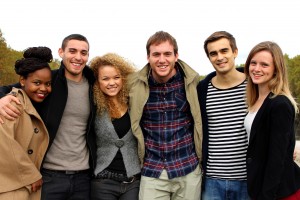 prospective students (primarily Russian-speaking) to find each other and establish direct communication.
The main idea behind Abitoria is that universities choose prospective students, not vice versa. A prospective student fills out his personal profile on Abitoria and a university decides whether that particular student satisfies the requirements and then accepts that student as a potential candidate for further consideration. Anyone willing to get a degree can join Abitoria, be it a high school student or someone who wants to transfer or that graduates soon. It is worth mentioning that despite our recent start, the startup is getting positive attention: 15 universities from 4 different countries and over 140 prospective students have already joined.
Any work experience can lead you to the creation of something worthy and useful. I can assure you that John Cabot University is definitely a place not only to pursue your studies, meet great people or enjoy the marvelous Italian cuisine; it is also a place that opens up new opportunities you can easily get a hold of.