Rome is one of the most romantic cities in the world, making it perhaps the world's best place to celebrate Valentine's Day! Do you already have a plan in place to surprise your significant other? If you're still deciding what to do, here is my list of suggestions:

1. Rent a Vespa for the day to recreate Audrey Hepburn's romantic city tour from the classic Hollywood movie "Roman Holiday." Never a bad idea!

2. Walk up to the Gianicolo Hill, which is only a few minutes away from the Guarini Campus. This beautiful spot overlooking the city is said to be the city's best kissing destination, and absolutely will not disappoint your loved one.

3. If the weather is nice, organize a picnic in one of many city parks! Buy some sandwiches and fruit or cook something yourself, pack it in a nice basket, and head to Villa Borghese, Villa Pamphili or Giardino degli Aranci!

4. Visit one of Rome's 50+ museums. On Valentine's Day you two can visit all state museums and archaeological sites by paying only for 1 ticket, thanks to the Italian Ministry of Heritage and Cultural Activities and its annual Innamorati dell'Arte, or "In Love with Art" campaign!

5. Lock your love padlock on one of Rome's beautiful bridges and throw away the key into the Tiber River! This romantic tradition comes from the Federico Moccia's novel "I want you" (Ho voglio di te), where the main characters tied a chain and a padlock around a lamppost on the north side of Ponte Milvio.
6. Go o
ut to dinner! Rome provides a wide variety of restaurants; you can pick anything from the fancy La Pergola or Il Pagliaccio to the less expensive Pimm's and La Vi! Do not wait till the last minute- try to book a table in advance!
7. Stay home and watch a romantic movie about Rome. Remember that Valentine 's Day is all about the atmosphere, not just presents and fancy dinner!
What is your favorite way to celebrate Valentine's Day in Rome? Celebrate 14 of February and many other holidays while studying in John Cabot University!
Прочитайте этот пост на русском!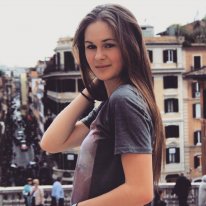 Anastasiia Komarova
Communications Major
Class of 2018
Hometown: Moscow, Russia